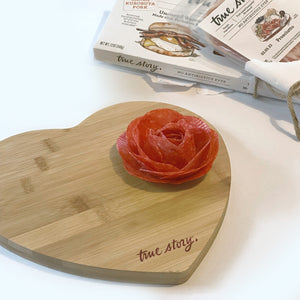 *** Shipping calculated at checkout. Please note that orders are shipped Monday-Wednesday via 2-day shipping. Orders do NOT ship from Thursday-Sunday. ***
If you <3 charcuterie, this is the bundle for you! Our Uncured Genoa Salame and Heritage Breed Prosciutto (featured by Florence Fabricant in the New York Times) provide a charcuterie experience worthy of this adorable, heart-shaped bamboo cutting board. A bonus package of our Kurobuta heritage bacon adds some sizzle to dinner or breakfast the next day—because really, who doesn't love bacon? 
Made from heritage breed pork raised on family farms right here in the USA, our charcuterie is crafted with the finest natural ingredients and artisanal techniques, with no preservatives, nitrates/nitrites or extras.
This bundle also makes a very special gift for your favorite food-lover!
Food Lover's Charcuterie Bundle includes (6 items total):
2 packages of Prosciutto
2 package of Genoa Salame
1 package Kurobuta Uncured Bacon
1 heart-shaped bamboo cutting board